Jul 26 2008
Shemale Inch
This new free site has just started and it's outrageously funny but also serves a good purpose. How do we know how big that shemale cock is? Depending on the size of a girl (and the angle she's been photographed from) their could be a penis size discrepancy of a few inches and we all know how many transsexual escorts lie about their true cock size!
Taking their patented "Tranny Truth Meter", the boys from Grooby are measuring the tgirls cocks to get the exact sizes! The inside word is a handful of girls completely refused, which I think is a bit short-sighted of them, guys would much prefer the truth then having to guess and the girls showing themselves on the site all look fantastic, I've been informed that there are a lot more girls to come and it should be updating a new shemale model about 3-5 times a week … now when is our muse, Kimber James going to be measured up for Shemale Inch?
Here's a sample post, of the lovely Yarah …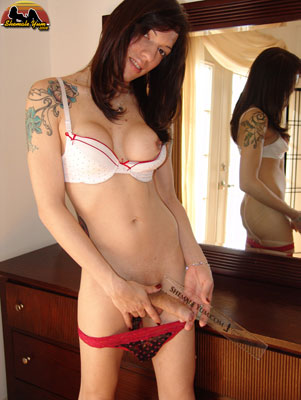 Name: Yarah
Location: NYC
Bio: Cute new 22 yo college shemale from Puerto Rico. Yarah is tall and slim and close to graduation as an Art major. She speaks perfect English and Spanish and was visiting NYC when I was lucky enough to shoot her. I'm sure she's going to be very popular here.
Featured On: Shemale Yum
Penis Size: ~5″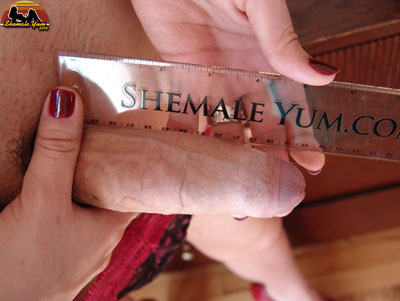 So bookmark Shemale Inch and get the real inside scoop!
Related posts
4 Responses to "Shemale Inch – an outrageously funny website!"
#

Tesse

on 12 Sep 2008 at 3:54 pm

I can't beleive you're already a so pretty girl at your age. For my own I needed more than 20 years to become really feminine. And I'm now a 48 years old nearly old lady!
God is with you.

Hello

sure like size of the shemale way to me I WAS WONDERING how get it so long an that so good looking in your pictures I like fine way for myself ;…five inch … ohell trying to it done .could send paper work on it my ad. john meide hankinson n.d. 58041 ……an do you pay to keep your love a live ….. oya.mark a meide saids hello to a wonderfull year this year …shemales….

#

greg

on 16 Nov 2011 at 2:23 am

There are a few easy ways to tell size.

First you measure on top from the pubic bone out.

Forearm size is generally under 10 inches from elbow to wrist.
John Holmes for example was stated as being up to 14 inches, in reality 9-3/4 inches according to a member of the LA Hung Jury who worked with John who reported this to author Gary Griffin who wrote extensively about enlargement in the late 1990′s.

The other way is to put one hand palm down on the shaft against the pubic bone and the other hand palm down on the shaft, so all the knuckles line up – you can't exaggerate bone. Hands are usually about three to three and a half inches outside knuckle to outside knuckle. If you can see the head out from both hands you are about seven to eight inches.

A 10 inch penis is rare. One in every 100,000 people.

Every inch is an angry inch.

cheers
Leave a Reply